Mary Cassatt House:
The Perfect Marriage of Cozy and Chic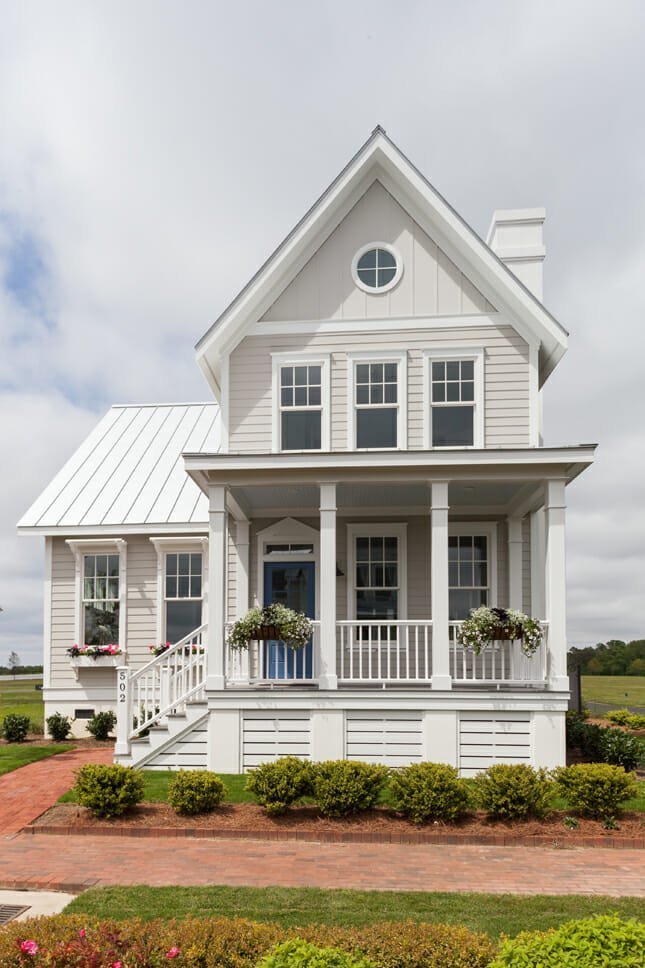 Facing the lush communal space of Cassatt Green, the Mary Cassatt House's inviting front porch beckons visitors to settle in with a glass of lemonade, a good book, and even better company. Its namesake, the gifted Impressionist painter, claims a connection to Cape Charles through her brother Alexander, who mapped out William Scott's rail line. This three-bedroom house is just under 2,000 square feet, but architect Allison Ramsey and Mary-Dolph Simpson of Simpson Builders have made the most of every single inch.
"We designed the Mary Cassatt house to be like one of the historical Victorian cottages in the town of Cape Charles," says Mary-Dolph Simpson. "We wanted this to not only be on the outside, with the window trim and cornices, but inside the house as well. You might say, 'This looks just like my grandmother's house!' It's not dated, but it has an old-world historical charm—combined with some modern finishes."
To accomplish this feat, Simpson Builders utilized hardwood flooring that resembled driftwood, beadboard accents, and shiplap, as well as ten-foot ceilings on the first floor and nine-foot ceilings on the second floor. The kitchen features an old-fashioned farmer's sink, offset by granite and quartz countertops and flush under-cabinet lighting. "We wanted the house to feel as large as possible," Simpson says. "All the doors have glass transoms above them, as they did in older homes, but we used really cool modern glass doorknobs. One of the fun things we did was to use light fixtures with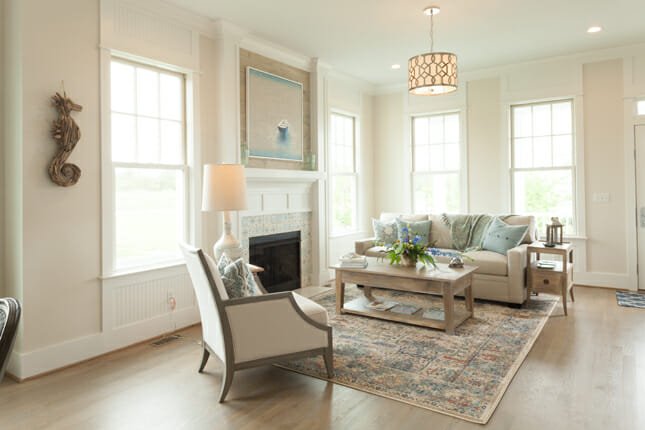 a bit of a modern feel, that blend so nicely with an older look."
The living room, dining room and kitchen are all open, creating a sense of spaciousness, and Simpson incorporated many large windows into the home's design. "The front door is a French door, not solid, which brings the outdoors in," she says. The rooftop terrace looks toward the beach and the Bay, blending the Cassatt House seamlessly with its natural environs. The result is a beautifully appointed, airy home where the past meets the present—the perfect marriage of coziness and chic.
Builder Quote:
Mary-Dolph Simpson of Simpson Builders
"We've transported the Victorian cottages of neighboring Cape Charles to the peaceful and serene
Bayside Village in Bay Creek and added modern conveniences.This is a small house that lives large."