Littleton Tazewell House:
Capturing the Spirit of the Eastern Shore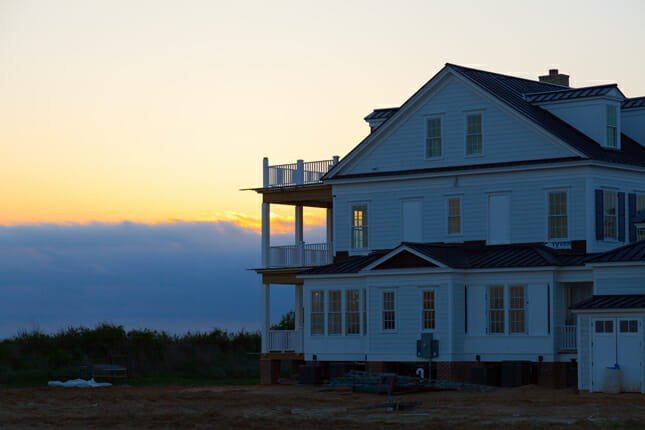 Named for Littleton Waller Tazewell, a well-known Virginia lawyer and politician, this lavishly appointed three-story home is the perfect blend of elegance and conviviality. The round columns that grace the first and second-floor gallery porches, as well as the Palladium window above the front door, lend the home an unmistakable aura of sophistication. The second-story porch off the master bedroom and the third-floor deck boast unparalleled views of the Chesapeake Bay. At over 4,000 square feet, with 1,200 square feet of outdoor living space, this incomparable home is as welcoming as it is opulent.
"There are some defining elements of the house that are singular in nature," says Luke Kellam, owner of L.J. Kellam Construction. "One of them is the use of New Ravenna tile. Now, that's a real Eastern Shore story." A custom mosaic tile company with worldwide clientele, New Ravenna is well known for the exquisite detail of their handcrafted jewel glass mosaics in a stunning array of designs. Sara Baldwin, the founder of New Ravenna, grew up on Virginia's Eastern Shore, and Kellam Construction had the privilege of building her home. The Tazewell House features New Ravenna's unique, gorgeous tile mosaics in the bathrooms, as well as the guest and master bedrooms.
Though Kellam Construction has taken on a wide range of projects—from the first Platinum LEED-certified home on the Eastern Shore to a historical renovation in partnership with the Colonial Williamsburg Architectural Team—the Tazewell House holds a special place in Luke Kellam's heart. "This house has done a very good job of capturing what makes the Eastern Shore special," Kellam says. "I've built a lot of homes, and I can't think of a more attractive presentation to the water. You're facing due west, enjoying those beautiful sunsets—you're in your own galaxy. It's wonderful."
Builder Quote:
Luke Kellam of L.J. Kellam Construction
For Mr. Luke Kellam, building the Tazewell House for Bay Creek is a natural partnership. "I have always been wed and committed to the very high quality craftsmanship that is the defining element of Kellam Construction, and Bay Creek is a community committed to the same," he says. "It's a very good fit and a very healthy marriage."