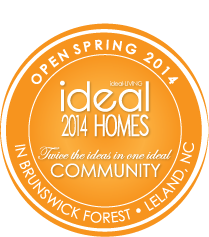 The Spring Issue of Ideal-Living magazine features not one, but two Ideal Homes within an "Ideal Community."
Logan Homes and Bill Clark Homes in Wilmington, NC designed and built two ideal homes now open for tour. These homes, built in Brunswick Forest, a planned coastal development only 10 minutes from historic downtown Wilmington, NC, have unique design features that can be incorporated into any price range.
Brunswick Forest begins with its prime location, within 30 minutes of pristine beaches—yet set apart on 4,500 heavily wooded acres containing parks, nature trails and creeks. It includes a wealth of amenities in place for residents to enjoy today, such as a top-rated golf course and some of the most diverse real estate offerings in eastern North Carolina. From upscale links-side estates to low-maintenance patio homes, this coastal North Carolina community has something for everyone – whether you're looking to get in on the action or get away from it all. There's also a vibrant town center that offers convenient shopping, dining and access to medical and other important services. It's these attributes and so much more that make Brunswick Forest a desirable place to own real estate in Wilmington, NC.
We're looking forward to having you come see for yourself. Brunswick Forest now hosts tours of these properties.
Click here to view The Adelaide by Bill Clark Homes.
Click here to view The Amelia II by Logan Homes.
Click here to view the article in the Spring Issue of Ideal Living magazine.