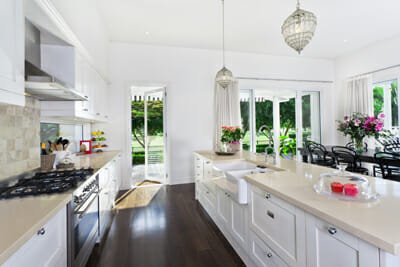 Design trends and forecasts for 2013 promise a tranquil architectural style that combines contemporary with traditional elements, such as floral fabric décor layered with abstract and modern art. The eclectic mix can be seen in kitchens and baths. White cabinetry and decorative hoods can be found in the kitchen. Bathrooms boast practical, yet luxurious features, like marble walk-in showers. Home design trends for 2013 are a combination of needs and desires.
1. Light and Airy Kitchens
Light and airy kitchens that combine white cabinetry, LED lighting, stylish sinks and decorative hoods are among the hottest commodities. In the upcoming year, the secret to the most fashionable kitchen revolves around a neutral palette that is both fresh and alluring. Small kitchens feature bright tech lighting that adds a wow factor to even the coziest of spaces, while large kitchens might display rich mosaic backsplashes that extend from countertop to ceiling. Neutral tones accompany the light and airy feel of new kitchen spaces with light colored granite countertops and…click here to read more.
[box type="note" ]The rest of this article is just one click away at Ideal Living's digital magazine! Click here to read the entire article and to explore the rest of the magazine online.[/box]